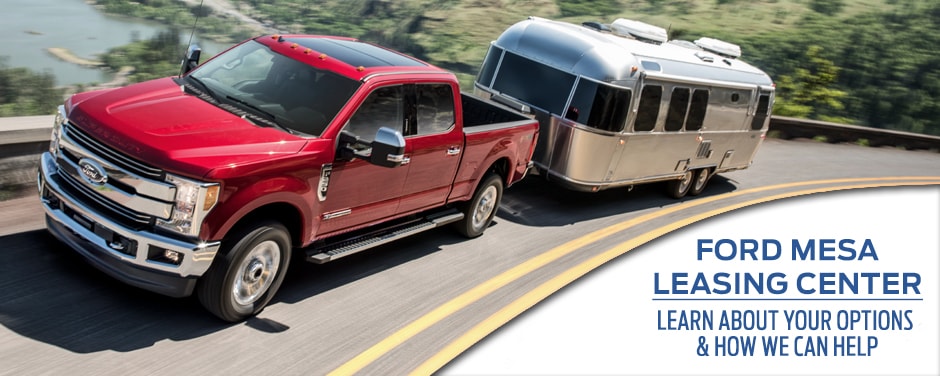 Is your current lease in its final year? Now is the time to consider lease-end options.
During the final year of your lease, it's time to start thinking about your end-of-lease options. Maybe you're ready to try leasing a different new Ford model that better meets your changing lifestyle. Or perhaps you're so pleased with your currently leased Ford car, truck or SUV, that you'd like to look into purchasing it for yourself, or for another family member. Maybe you'd like to do both. There are quite a few choices to consider. To assist you in negotiating all your lease-end options, we've created this Ford Leasing Center section for you.
Our Ford sales and leasing professionals are here to help you every step of the way. Give us a call at 877-723-5261 - we are happy to answer all your questions.
Lease End Timeline
How far out are you from your lease end date?
Time to start considering your lease-end options.
Since your vehicle is an integral cog in your daily life, you'll probably want to avoid the necessity of making a rushed decision on where to go from here. First consideration: do you want to keep your current Ford or get a new model? There are so many possibilities ... larger, smaller, fancier, more affordable, crossovers, hybrids, hatchbacks - and the list goes on. Take some time to evaluate your wants and needs.
At 4 months out, it's time to begin preparing for the end-of-lease process.
Schedule your Pre-Return Vehicle Inspection to avoid any unexpected fees and expenses.

This is also a good time to schedule a Trade-In appraisal if you are thinking about trading in your leased Ford.

Decide if you want to make any repairs.
Schedule an appointment with Dave Thilges - Commercial Fleet Manager 480-530-9595.
Satisfy any Lease Liability Fees/Charges.
Schedule Inspection
60 Days to Go on Your Lease - Time to Begin the Final Steps!
If you've visited our Larry H. Miller Ford Mesa Lease Center resource earlier, you've no doubt already spent some time thinking about what you want to do when your lease ends, and have probably already taken advantage of your complimentary Pre-Return Vehicle Inspection.
Our Ford leasing professionals are here to help you through the final end-of-lease process. If you're looking to upgrade to a brand new Ford car, truck or SUV, our product specialists can assist you in choosing the model and trim level that has all the features you want. You may want to peruse our current offers on new Ford models as well.
To Schedule your appointment, just give us a call at 877-723-5261 or contact us by using the form below.
Contact a Ford Leasing Specialist