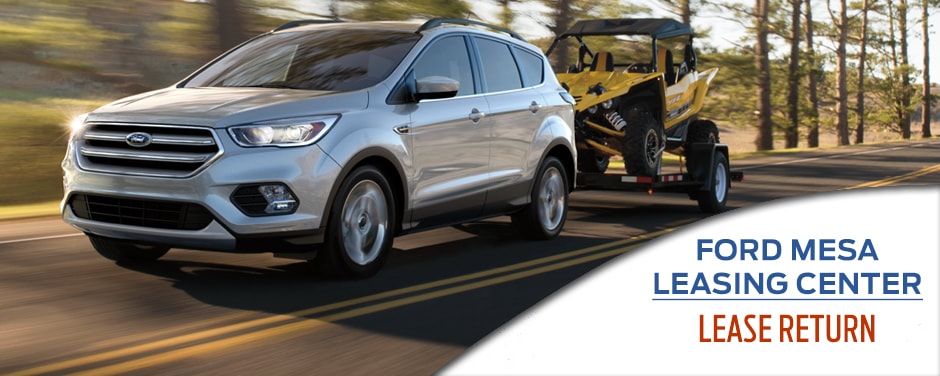 Returning Your Leased Ford to the Dealership
Our policy here at Larry H. Miller Ford Mesa is to make your lease-end return as easy for you as possible, whether you want to lease or purchase another vehicle from us or not. Our staff is here to assist you throughout the lease return process and let you know you are always welcome back again in the future.
To help make everything go as smoothly as possible, we've outlined some things to know as your lease-end draws near. If you've chosen to return your vehicle and walk away, we strongly recommend that you schedule a complementary pre-inspection appointment to assess the leased vehicle's condition early enough to give you time to address any needed issues that might add unexpected charges to your final bill. If you want to do a self-assessment, we recommend that you also take advantage of our free pre-inspection service as well.
Please see the information below on the lease-return process, along with descriptions of excessive wear and use.
Prepare for Your Lease Return in Advance
Normal wear is to be expected and will not result in additional charges. Excess wear, however, will result in additional charges to you upon vehicle return. Explore the tabs below for an overview of conditions that fall into the Excessive Wear and Use category which will incur additional charges at lease-return if not addressed in advance.
Excessive Wear and Use Overview
Exterior Damage
Dents, dings, and scratches equal to or greater than 4" long or across
Chips equal to or greater than 1/2" in their paint
Punctures in body panels
Chips, spiders, and bulls-eyes equal to or greater than 1/2"li>
Crack equal to or greater than 2" long
Peeling, bubbling, scratched, or non-matching tint
Area along the tire tread that is less than 1/8" deep
Missing, cut and/or torn tires
Tires of a size or speed rating that doesn't match that of the original tires
Scratches 4" long or greater on wheels or wheel covers
Bent, broken, cracked, and/or warped wheels
Missing spare tire or wheel (or inflation kit if that was your original equipment)
Interior Damage
Holes, cuts, burns, or stains in upholstery or carpet
Missing keys/remotes
Missing or broken parts or accessories (i.e. stereo, any knobs, third-row seats, etc.)
Mileage:
Your lease states a specific number of allowed miles per year. For example, a 3-year lease with 12,000 allowable miles per year should be returned with no more than 36,000 miles on the vehicle. Any mileage over that pre-set amount will result in mileage overage charges. Consult your lease documents to determine your annual allowable miles, and specified overage fees.
Pre-Inspection is Recommended
Flexible, convenient scheduling
No-charge comprehensive assessment of your leased Hyundai's wear
Prevent surprise excess wear charges on your final bill
Schedule a complimentary inspection with us 60 to 90 days prior to the end-date of your lease. Call our Larry H. Miller Ford Mesa Service Department, or use our online service scheduler to set your pre-insepection appointment. Our certified Ford service staff will assess your leased vehicle's wear & tear, which will allow you time to schedule any needed repairs before your lease maturity date.
Schedule Your Lease Return
Once you've had your pre-inspection and have either addressed repair needs or are satisfied with your leased vehicle's condition, it's time to schedule your Lease Return Appointment.
Be Sure to Bring the following items when you turn in your leased Ford
Copy of your lease agreeement
All keys, keyfobs, and all original equipment that was included with the leased vehicle
All vehicle douments you received when you leased the vehicle, i.e. owners manual, maintenance guide
After Returning Your Leased Ford car, truck or SUV
Remember to cancel any electronic auto-payments and satisfy any remaining obligations under your lease.
Contact A Ford Leasing Specialist